Checklist for your PCS Move
Posted by Robert Rogers on Wednesday, November 9, 2022 at 7:17:56 PM
By Robert Rogers / November 9, 2022
Comment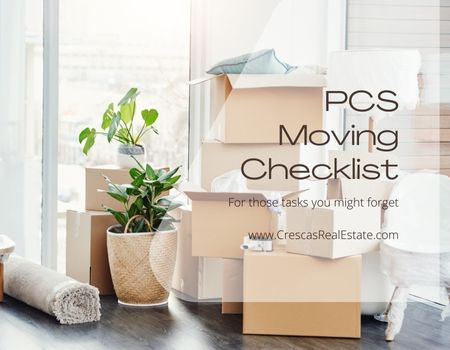 If you have recently gotten notice about an upcoming PCS (permanent change of station), the time to plan is now. Getting everything ready for a move requires managing a long list of moving pieces, even with the help of military resources. To help you stay organized, we have put together a PCS checklist for tasks that might be forgotten in the moving process.
Looking for homes for sale in the Norfolk area as you prepare for your new location? We can help! We have helped many military families make a transition into a home they love, so contact us any time to find out how we can help you, too.
Keep Track of Expenses
As soon as you get word of your PCS, begin keeping track of all expenses. Some will be reimbursable, and others will be tax deductible. Scan your receipts for all moving expenses and keep both a hard copy and digital copy of them, just in case.
Talk to Your Kids
If this is not your first military move, chances are your kids are familiar with the drill. Make a plan to sit down with them and explain the move, with any information you have about the timeline, their new schools, and where you might live.
Supporting your kids in getting excited about where you are going to live can be difficult, but we have a few tips to help:
Show them some listings of homes for sale in the area you are considering
Talk about the parks, restaurants, and fun things to do nearby
Pull up photos of cool places you can visit in the area with a day trip or weekend getaway
Take Inventory of Possessions
Before you begin the packing and moving process, take inventory of your possessions. Whether it is an item that is valuable, or just valuable to you, make sure you have a document listing everything you are moving with and the condition it is in. While we'd like to assume that everything you have packed up will arrive at the new home, it's not always this simple. Having a document with a list of what should have arrived and the condition it should have arrived in will help if you need to file any disputes or complaints.
Take photos or videos of anything you are concerned might be damaged in the move to be sure you have thoroughly documented. If you have any antiques or other valuables, consider getting a professional appraisal of them in case they need to be replaced after the move.
Schedule Appointments before the Move
When you get to your new location, it will be time to find a new dentist, hair stylist, personal trainer, and any other service you need. Make sure to buy yourself some time in the new location by scheduling any appointments you can before you go. Get a haircut, take yourself and your kids in for a dental cleaning, and anything else you can to shorten your to-do list immediately after moving into your new home.
Ready to begin the search for your new home? We can help. Contact us any time to learn more.