Contingencies You Might Want to Include when Buying a Home
Posted by Robert Rogers on Tuesday, November 29, 2022 at 4:45:19 PM
By Robert Rogers / November 29, 2022
Comment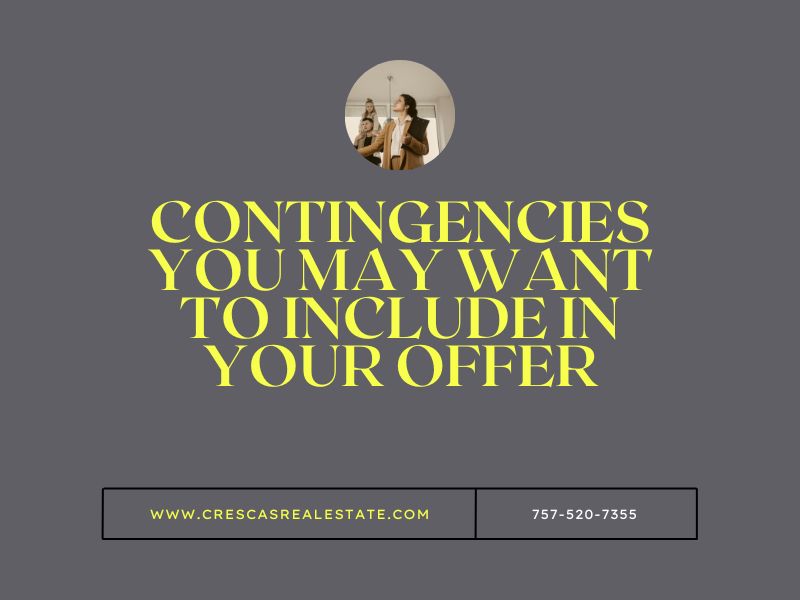 As the real estate market shifts to become more balanced, buyers once again are able to make contingent offers that were often overlooked in the past two years. If you are considering buying a home, consider these contingencies that you may want to include in your offer to minimize your risk and protect your investment.
Looking for homes for sale in Norfolk or the surrounding area? We can help! Contact us any time to learn more.
Prior to making any offers, think about including one or more of these contingencies in it.
What is a contingency?
Before we talk about what contingencies you might want to include in your offer, you may need a refresher on what a contingency is. Contingent offers are those that include conditions, basically saying you are offering a certain amount as long as a certain set of conditions are met. This might include the condition or value of the home, or your ability to sell your current residence and secure financing, among a variety of other potential scenarios.
In recent years, many sellers were not accepting contingent offers because they had the option to go with competing offers that waived appraisals and inspections, sometimes offering cash over the asking price. Luckily for buyers today, the market is shifting away from the imbalanced sellers market we saw for the past couple of years and contingent offers are once again being accepted in many cases.
Home Inspection Contingency
A home inspection contingency allows the buyer to either negotiate or back out of the deal with no penalty if the home inspection report reveals a problem with the property. After the home inspection report is delivered, you may discover that the home needs far more repair that you expected or that there is a hazardous situation you do not want to take on. A home inspection contingency is a wise choice for nearly every buyer.
Appraisal Contingency
An appraisal contingency is required by the buyer's lender in many cases. If the appraised value of the home is lower than the accepted offer, the buyer is able to back out of the sale or negotiate a new price that reflects the appraised value.
If you are financing your home purchase, chances are high that you will have to include an appraisal contingency. Even if you are buying cash, you may want to include this contingency to protect your investment.
Financing Contingency
A financing contingency allows you to back out of the purchase if you are not able to secure the mortgage for which you've been pre-approved. This could happen for a variety of reasons, some beyond your control.
Clear Title Contingency
Part of the escrow process involves a title company reviewing the title to the home to be sure there are no liens or disputes associated with it. A clear title contingency allows the buyer to back out of the purchase if a lien or other problem is discovered.
Home Sale Contingency
One of the most common contingencies is a home sale contingency. In this case, the offer is dependent on the buyer selling their current residence before closing on the home. This is sometimes required in order to secure financing, and in other cases the buyer simply does not want to have two mortgages at the same time.
Kick-Out Contingency
If you are making an offer with a home sale contingency, a kick-out contingency may be the perfect partner to it that allows your seller to have peace of mind. This contingency allows the seller to essentially have a back-up plan if the buyer ultimately does not end up purchasing the home. In this scenario, the home will stay on the market and the seller can accept a back-up offer to turn to in the case of the original buyer falling through.
Home Insurance Contingency
Homeowners insurance is an essential component of homeownership, required by lenders and considered to be the best choice even if you buy the house with cash. A home insurance contingency is not often needed, but protects the buyer in the rare case that they are unable to secure insurance for the property.
A home insurance problem may arise if damage occurs to the property between the time that the seller moves out and the buyer moves in, or if the buyer fails to find an insurance company. Either party can walk away from the sale in this case.
HOA Contingency
If the home you are considering is located in a community with an HOA, you may want to include an HOA contingency in your offer. This allows you to back out of the purchase if you decide not to agree to the terms of the HOA documents, or if you do not receive the relevant documents in time.
To learn more about homes for sale in Norfolk, contact us any time.