Fun Things to Do with Kids in Norfolk
Posted by Daniel Stoll on Saturday, August 12, 2023 at 3:18:29 PM
By Daniel Stoll / August 12, 2023
Comment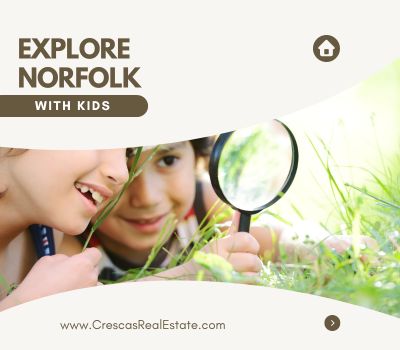 While you may think of Norfolk as a military town, it also offers a wide range of activities and attractions that cater to kids of all ages. From interactive museums and outdoor adventures to educational experiences and exciting events, Norfolk offers a diverse array of things to do that will keep kids entertained and engaged.
If you are looking for a home for your family in the Norfolk area, contact us any time to learn more about real estate in the area. Looking to plan a fun outing with kids? Check out these ideas.
Virginia Zoo
The Virginia Zoo is a fantastic place to explore with kids. It features over 500 animals from around the world, including lions, tigers, giraffes, and more. The zoo also offers interactive exhibits, a petting zoo, and engaging educational programs that make learning about animals and conservation fun.
Nauticus and Battleship Wisconsin
Nauticus is a maritime-themed science center that's perfect for kids who love all things nautical. The highlight is the Battleship Wisconsin, one of the largest and last battleships built by the U.S. Navy. Kids can explore the ship's decks, see historic exhibits, and even participate in hands-on STEM activities.
Children's Museum of Virginia
Located in nearby Portsmouth, the Children's Museum of Virginia is a haven for creative play and learning. Kids can enjoy interactive exhibits on subjects like science, arts, and culture. From a "Kid's Cafe" to a "Train Room," this museum offers a wide variety of activities to spark young imaginations.
Norfolk Botanical Garden
Families can enjoy the beauty of nature at the Norfolk Botanical Garden. Kids can explore themed gardens, take guided tours, and participate in seasonal events such as the "Butterflies LIVE!" exhibit. It's a peaceful and educational place to spend quality time outdoors, and just happens to be the largest botanical garden in the state.
Ocean View Beach Park
For a day of sun and sand, head to Ocean View Beach Park. This family-friendly beach offers a playground, picnic areas, and calm waters. Kids can build sandcastles, fly kites, and enjoy the sights and sounds of the Chesapeake Bay. Check out their events calendar to plan your trip.
Harbor Park
Baseball-loving families can catch a Norfolk Tides game at Harbor Park. The stadium offers a family-friendly atmosphere, and kids can enjoy the excitement of a live sporting event while snacking on classic ballpark treats.
Spirit of Norfolk Cruise
For a unique family experience, consider taking a Spirit of Norfolk cruise. Kids can enjoy the sights of the Elizabeth River while indulging in a buffet-style meal. The cruise often features entertainment and music, making it a memorable outing for the whole family.
Norfolk Southern Museum
If your kids are fascinated by trains, the Norfolk Southern Museum is a must-visit. Learn about the history of railroading, see model trains in action, and explore the interactive exhibits that showcase the importance of trains in our world.
Virginia Air & Space Center
Located in nearby Hampton, the Virginia Air & Space Center is a captivating destination for kids interested in aviation and space exploration. With interactive exhibits, flight simulators, and displays of historic aircraft and spacecraft, this center offers a hands-on learning experience.
To learn more about living in the Norfolk area, contact us any time.