How to Calculate the Actual Cost of Buying a Home in Norfolk in 2023
Posted by Daniel Stoll on Monday, June 5, 2023 at 3:41:53 PM
By Daniel Stoll / June 5, 2023
Comment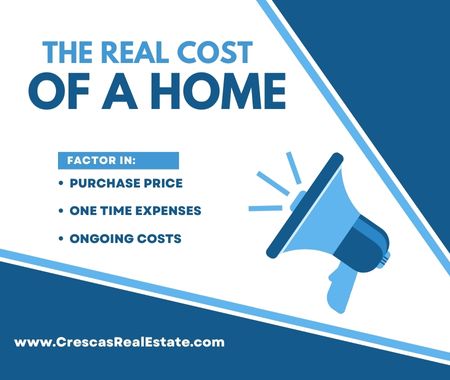 As you begin your search for homes for sale in Norfolk, take the time to calculate the real cost of buying a home. Whether it's your first time buying a home, you're on a tight budget, or you are looking to splurge on your dream home, understanding the expenses associated will help you move forward in total confidence with your house hutning journey.
Another critical component of making confident and efficient decisions when it comes to buying your home is working with a real estate agent you can trust. Contact us any time to learn more about how we can help you make owning a home in Norfolk your reality.
To prepare for one of the most important investments you will ever make, take time to consider these one time and ongoing expenses as you calculate the real cost of buying a home.
One Time Expenses
These are the expenses you will cover once, at the initial time of purchasing and moving into your home. Rather than considering your monthly income, it makes more sense to look at how much you want to invest upfront into buying your home. These costs can be summarized as down payment, closing costs, moving expenses, and renovation expenses, but let's break them down a bit more to help you make a realistic plan.
Purchasing
In addition to considering the actual purchase price of your home and the monthly mortgage payment associated with it, don't forget about theses costs:
Lender fees, discount points, and other miscellaneous closing costs
Inspection
Appraisal
Travel for house hunting trips
Down payment
Renovation and Remodeling
Whether your home is move-in ready or in need of some updating, you will likely spend something on renovation. This may only be a new paint color and some closet organizers, or it could be far more extensive and involve hiring a contractor. Whatever your plans, factor the expense into this one time purchase price.
Appliances
Find out which appliances will need updating, or if there are some that will not be included in the sale. If you are buying your first home, you will likely need to purchase a refrigerator, washer, and dryer.
Furniture
Buying a new home by no means requires buying all new furniture, but if your current furniture will not suit the new home you may want to budget for some new purchases. This cost can vary greatly, from $0 for some to well into the thousands for others.
Landscaping
Landscaping can be considered both a one time expenses and an ongoing expense. Setting aside the continual maintenance and seasonal needs of the property, pay attention to any major landscaping that may need to take place as you consider a home. Maybe there is a tree that needs to be trimmed or removed, a patio that is in bad shape and needs to be replaced, or a blank slate that needs to be landscaped.
Ongoing Expenses
In addition to the sum of all the initial expenses, consider whether the ongoing expense of the home fits comfortably with your current income. Some homes will require a much higher budget for monthly and seasonal maintenance than others, so this should be an influential factor in the home you ultimately choose to buy.
HOA Dues
If the home is located in an HOA managed community, don't forget to keep these dues in mind. Find out if the HOA dues are allowed to be raised at any time, and how much they can be raised at each increase. There are not many HOA managed communities in Norfolk, but you will find some in the surrounding areas.
Lawn Care
Whether you plan to hire someone to care for your lawn or do it yourself, the cost is worth taking into account. Consider whether you will need to purchase new lawn care equipment, how much it will cost to water the lawn and gardens, and whether there is something that must be insured (like a pool).
Seasonal Maintenance
The seasonal maintenance you need to take on will depend mostly on the exterior of the home. Consider how much it will cost to hire someone to clean the gutters, handle sprinkler blow outs, or any other relevant seasonal maintenance.
Utilities
Depending on the size of your home, how old it is, how new the windows are, and where it is located, your utility costs can vary greatly. It will be impossible to find out exactly what the expense will be, but keep this in mind especially if you are considering buying a historic home with insulation that has not been updated.
Housekeeping
If you plan to hire a housekeeper, get quotes for different properties you are considering to find out what your ongoing bill might be. You may also be able to guesstimate these costs by looking at the size of the home, the number of bathrooms it has, whether it is multiple stories, and any other factor that might affect how much your housekeeper charges.
Ready to get started with your search for the right home in Norfolk? Contact us any time.