How to Know You are Ready to Buy a Home in Norfolk
Posted by Daniel Stoll on Friday, August 4, 2023 at 7:29:32 PM
By Daniel Stoll / August 4, 2023
Comment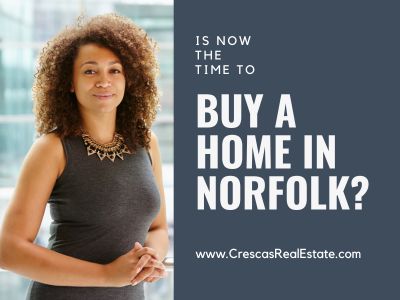 Deciding to buy a home is a significant step that involves careful consideration of multiple factors. It's not just a financial decision; it's also an emotional and lifestyle choice. Before you take the plunge into homeownership, consider some of these factors to move forward with confidence.
One of the most valuable things you can do is work with an experienced and knowledgeable real estate agent. Contact us any time to learn more about buying a home in Norfolk.
Financial Stability
One of the most crucial aspects of homeownership is financial readiness. You should have a stable source of income and a budget that allows you to comfortably cover your mortgage payments, property taxes, insurance, utilities, and maintenance costs. It's advisable to have an emergency fund in place as well, as unexpected expenses can arise.
Remember that investing in real estate is one of the best ways to ultimately build generational wealth and financial freedom. The more quickly you can reach your financial goals for homeownership, the more quickly you can begin building your net worth through passive growth.
Down Payment and Closing Costs
Owning a home usually requires a down payment, which is a percentage of the home's purchase price. Additionally, you'll need to cover closing costs, which can include fees for inspections, appraisals, and other services. If you've saved up enough money to cover these expenses without straining your finances, it's a positive sign that you're financially prepared for homeownership.
If you have not fully saved up for these expenses, talk with a lender about what kind of assistance you qualify for. There are many programs, especially for first time buyers with good credit, that can offset the initial expense of buying a home.
Long Term Plans
Buying a home is a long-term commitment. Consider your plans for the next several years. If you anticipate staying in the area and are committed to putting down roots, homeownership might be a suitable option for you.
If you don't know whether you will stay in Norfolk long term, or what type of home you will need a few years from now, consider house hacking instead. You can invest in a home now that can become an income property in a few years when you are ready to move. We can help you identify a property in an area with a strong rental demand to work toward your future goals.
Maintenance
Owning a home requires more maintenance than renting. Unlike renting, homeownership comes with the responsibility of maintaining the property. Are you prepared for tasks like lawn care, repairs, and regular maintenance? If you're not ready to invest this time and effort, consider whether you can afford to outsource some of these tasks, or whether a new construction home that is generally lower maintenance might be the better fit.
If you have the time and skill set, you may want to invest some sweat equity into a home to increase its value and make it your own. Norfolk has many older and historic homes that are ready for this TLC that will lead to increased property value.
Lifestyle and Needs
Before buying a home, make sure you have clearly determined what you are looking for, working together with a partner if applicable. Your lifestyle and needs play a significant role in determining whether you're ready to buy a home. Consider factors such as the size of your family, future plans (like starting a family or retiring), and any specific features you require in a home, such as a backyard, extra rooms, or proximity to schools.
To learn more about buying a home in Norfolk, contact us any time.