Is a 2-1 Buydown Right for You?
Posted by Robert Rogers on Wednesday, November 2, 2022 at 8:50:38 PM
By Robert Rogers / November 2, 2022
Comment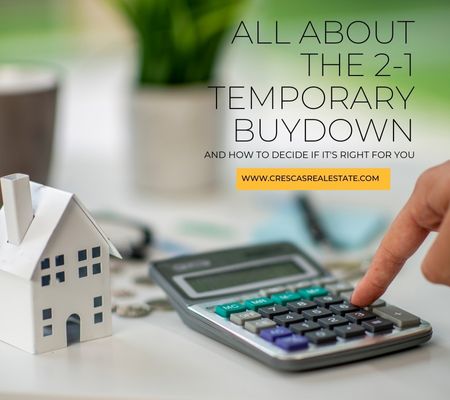 Have you heard about a 2-1 temporary buydown? This creative solution to rising interest rates is allowing some buyers who were on the fence to confidently purchase the home they are dreaming of. If you are wondering whether a 2-1 buydown might be the right fit for you, keep reading to learn more.
To learn more about homes for sale in Norfolk, contact us any time! We are ready to help you find your new home in your ideal community.
What is a 2-1 Temporary Buydown?
A 2-1 buydown allows homebuyers to purchase a home with a reduced mortgage interest rate, understanding that the interest rate will rise at a rate of no more than 1% per year for two years. After two years, the interest rate will be set at the new, higher rate. This temporary rate reduction allows buyers to purchase a lower rate, with more predictability than adjustable rate mortgages (ARMs).
For example, let's say you are borrowing $250,000. With a 2-1 buydown, you could have an interest rate of 4.5% the first year, 5.5% the second year, and then 6.5% from the third year until you sell or refinance. In this scenario, your monthly mortgage payments would be $1,267 the first year, $1,420 the second year, and then $1,580 for remaining years.
Why Today's Market is Perfect for 2-1 Buydowns
A 2-1 temporary buydown is a concession offered by sellers, which makes it particularly helpful in a market like we are seeing today. American homeowners have record breaking home equity, with an average of $300,000 in equity across the nation. This means the seller of the home you want to buy likely has flexibility to offer a 2-1 buydown that will allow them to get the purchase price they want while making the sale affordable for you.
Who is Eligible for a 2-1 Buydown?
In order to qualify for a 2-1 buydown on your mortgage, first the seller must be willing to offer the concession. We can write this into the offer with a clear explanation of how it benefits them, and many sellers will be interested in making this relatively minor concession in order to sell their home for the price they want.
In addition to the seller's agreement, there are a few other factors to consider. 2-1 buydowns are offered on fixed rate mortgages for a primary residence, with a rate reduction of no more than 2% total that will increase no more than 1% each year.
Why Should a Seller Consider Advertising a 2-1 Buydown Option?
If you are currently selling your home, you may be concerned about the effect of rising interest rates on your potential buyers. Offering a 2-1 buydown to your buyers, and even marketing it with this offer, can be a perfect way to make your home more appealing to a wider range of ideal buyers, without having to reduce your list price by a dime.
Chances are you are like most other Americans right now, holding onto significant home equity that offers you the flexibility to offer this unique solution to your buyers. To learn more about this option, feel free to reach out to us any time!