Homes for Sale in Norfolk VA
Norfolk VA Real Estate
Welcome to Norfolk Virginia. Located in the popular Hampton Roads region, this is a popular place for military relocations, retirees, and families. This is the third most populated city in Virginia and home to about 240,000 residents. It is the 94th largest city in the country Inc. back in 1705. With a long and rich history, Norfolk Virginia is touted one of the best places to live in the state. Read on below the real estate listings to learn more about relocating to Norfolk Virginia. READ MORE HERE
Crescas Real Estate team is the leader in Norfolk VA real estate, properties, land, townhouses, condos and multi-family throughout Hampton Roads. Whether it's a military relocation, investment property, land purchase or your first home, you can trust the Crescas Team to provide top shelf service, expert buyer representation and when you're ready to sell, we're right here for your next move.
To get email notifications when new listings that fit your search are listed on the market, be sure to register for a free account. We are your Hampton Roads Real Estate Experts and would love to help guide you home!
Homes for Sale in Norfolk
October 1, 2023
Browse All Norfolk Neighborhoods
Relocating to Norfolk Virginia
Norfolk Virginia is one of the oldest cities in the Hampton Roads metro area. This historic, urban, financial, and cultural center of the region is the core of the area surrounding the natural harbor at the mouth of the Chesapeake Bay. It is one of the nine major cities that constitute the Hampton Roads area officially known as the Virginia Beach – Norfolk – Newport News Virginia VA – NC MSA.
Bordered by multiple bodies of water, it hundreds of miles of riverfront and bayfront property including beautiful beaches in the Chesapeake Bay. Naval Station Norfolk, one of the largest naval bases in the world, is located in the city along with one of NATO's two strategic command headquarters. This area is an important contributor to the port of Virginia and home to the Maersk Line, Limited, managing the world's largest fleet of US flag vessels. The city has a long history of strategic military and transportation ports and is also home to where many railroad lines got their start. Neighborhoods and cities are connected by an extensive network of highways, tunnels, and bridges.
What do people love about Norfolk Virginia?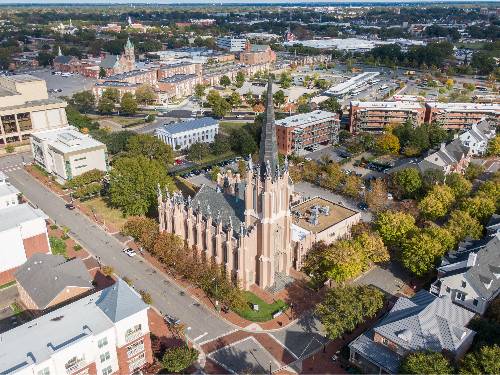 Norfolk is home to the Virginia Opera, the Virginia stage company, symphony, arts festivals, the Chrysler Museum of Art and many, many other galleries, museums, theaters and festivals. It has 7 miles of Chesapeake Bay beachfront and over 144 miles of shoreline along the lakes, rivers, and the bay. Plus, most of these areas are residential neighborhoods, so finding a waterfront home is not that difficult.
Norfolk is home to a 300-acre Norfolk international terminal making it the largest inter-model center in the US. It's recognized as a tree city and has beautiful mature landscaping, flowers, and the Norfolk Botanical Garden. Old Dominion University and Norfolk State University have downtown campuses as well as other local schools and colleges. The Eastern Virginia medical school has a four year recognized research Institute centering around their health system, hospital, and Children's Hospital.
Norfolk has been rated as one of the best places to live in Virginia but don't take our word for it, here's what locals have to say about living in Norfolk Virginia.
I like how diverse Norfolk is. It's a place where you can be yourself and can meet other alike people.

Norfolk is a very family friendly place to visit. There are many restaurants to dine in and many locations to have quality family time where you can enjoy yourself. Also, there is easy access to other cities in Virginia from Norfolk with minimal traffic. Overall, Norfolk is a nice place to visit with your family.

I am a native of Norfolk, Virginia and I love it here. Norfolk, Virginia is home and I have learned how to survive here for the outside world. Norfolk, Virginia is building creators, engineers, businessmen, and women ever generation. Niche.com
Things to Do - Local
If you are moving from out of state, it's a great idea to explore your new local community. There are amazing historical landmarks, museums, and with such a rich history, you can find out a lot about Norfolk and still have a lot more to learn. There are cultural and theme tours, walking and biking tours, and even a Passport to Fun attraction and discount book, a great way to learn about your area. Whether it's wineries or breweries, great restaurants, museums, shopping, galleries or theaters, you don't have to go far for fantastic entertainment and eats in Norfolk.
Norfolk Schools
Norfolk has its own school system with a wide range of academics from preschool and kindergarten to adult education services and testing. The Norfolk Public School District maintains five high schools, eight middle schools, 34 elementary schools, and nine special-purpose preschools. The district has won several prizes and awards for some of the greatest overall performance and improvement in student achievement while reducing achievement gaps for poor and minority students. There are several private schools in the city as well such as the Norfolk Academy, one of the oldest in the country founded in 1728. There are three public universities and one private as well as a community college campus in downtown.
Norfolk Real Estate
Norfolk Virginia has a variety of rentals and properties to own and about 57% of residents own their own homes. Homes start at about $120,000 up to over $1 million based on size, condition, lot size and location. There are condominiums and townhouses, single-family homes, duplexes, lofts, and waterfront properties. From starter homes to luxury estates, Norfolk real estate is extremely diverse.
For more information on homes for sale in Norfolk Virginia, contact Crescas real estate today. We are your expert for Hampton Roads real estate, properties, rental properties, military relocations and more.
Contact Your Norfolk Realtor®